FAIR site
The Forest-Atmosphere-Interaction-Research (FAIR) site is an interfaculty, interdepartmental (see here for a list of the involved folks) forest research platform of the University of Innsbruck situated in a Scots Pine forest some 30 km to the west of Innsbruck (Austria).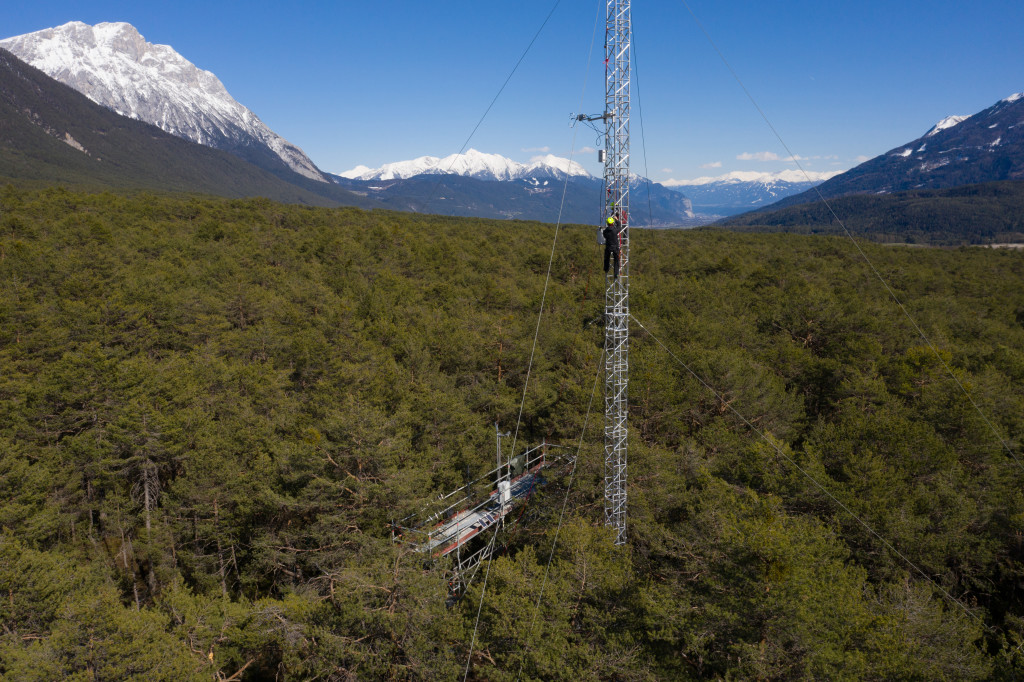 The basic infrastructure at the site was provided in the form of two infrastructure grants by the University of Innsbruck via the research area Mountain Regions. The basic running costs are provided by the Alpine Research Sites of the University of Innsbruck. Actual research activities at the FAIR site are funded on the basis of extramural funding acquired by FAIR researchers (see here for a list of past and current projects).
The research activities at the FAIR site currently revolve around five main interlinked research areas:
ecosystem carbon and water cycle
forest-atmosphere air quality interactions
boundary-layer meteorology in complex topography
remote and proximal sensing
model development, testing and validation
The basic site infrastructure includes mains power supply (25kW), a 30m meteorological mast, a 2m understory mast and two 10m walk-up towers interconnected by a bridge for access to the tree crowns. An air-conditioned instrument hut at the base of the meteorological mast provides shelter for trace gas analysers and associated hardware and the IT infrastructure (including remote access). Over a 100 unique sensors are continuously operational and acquire over 150 variables; a large number of measurements are made on an episodic basis. See here for detailed information on site characteristics and measurements.
Research at the FAIR site is open and collaborative. We plan at sharing the collected data openly and welcome researchers interested in conducting their own projects at the site.
Publications and student theses associated with the FAIR site can be found here, media coverage of the site here.
More Info